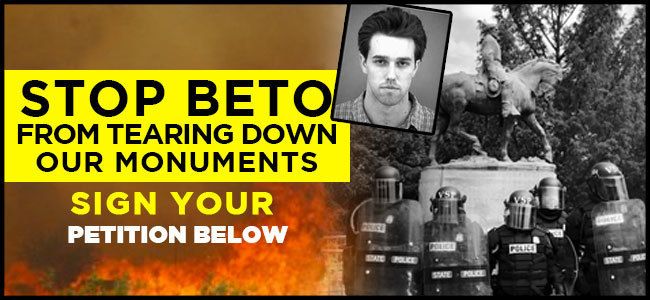 PETITION TO GOV. GREG ABBOTT, LT. GOV. DAN PATRICK, & SPEAKER-DESIGNATE DENNIS BONNEN:
WHEREAS: Texans who fought in the Civil War are considered United States military veterans; and 
WHEREAS: Robert Francis "Beto" O'Rourke's stated goal of removing Texas's historical monuments mirrors the tactics of communist regimes to eviscerate the Texas and United States Constitutions; and
WHEREAS:  Beto O'Rourke's  criminal arrests for burglary, for DWI, and new criminal charges stemming from his campaign for Senate disqualify him from leadership in Texas or D.C.; and
WHEREAS: The Official Platform of the Republican Party of Texas holds that ALL Texas's historical monuments "should be protected from future removal or defacement," and that any "monuments previously removed should be restored to their historical locations;"
THEREFORE: ALL Texans should disregard "Beto" O'Rourke's advice on Texas's Monuments, and Republican Leadership in Austin needs to stand strong in opposition to Robert Francis "Beto" O'Rourke and his intersectionalist Marxist agenda to destroy Texas's monuments to history.
Conservative Response Team will keep me informed of your votes and actions.